Aerotropolis Atlanta will be a preeminent location for economic investment in the southeastern U.S., leveraging its proximity to Hartsfield-Jackson Atlanta International Airport (ATL) through strategic development and expansion of targeted industries intended to enhance the area's quality of life.
What is Aerotropolis Atlanta?
As the world's most traveled airport, Hartsfield-Jackson Atlanta International Airport (ATL) is a primary driver of metro Atlanta's Economy. However, until now, no collaborative effort has brought together the area's many varied stakeholders under a joint vision and strategy to truly leverage the airport's role as an economic powerhouse.
Aerotropolis Atlanta is a new vision of metro Atlanta's southside. The goal is to transform the airport vicinity into a world-class Aerotropolis by stimulating investment and strengthening public coordination for the benefit of all Aerotropolis Atlanta stakeholders.
ATL Drives the Atlanta Region
More than 63,000 jobs onsite
Direct economic impact of $34.8 billion on metro Atlanta (as of last economic impact study)
Direct economic impact of $70.9 billion on Georgia (as of last economic impact study)
Moves more than 280,000 passengers (2017) and 1,800 metric tons of cargo (2017)  daily
Served more than 100 million passengers in 2015 (the first airport to do so)
80% of the U.S. Population is within a two-hour flight of Atlanta
Nonstop service to more than 150 U.S. destinations
Nonstop service to more than 70 international destinations in more than 50 countries
More than 200 freight-forwarders, both domestic and international (as of last economic impact study)
World's busiest and most efficient airport
Development in Aerotropolis Atlanta
Airport City College Park
The city of College Park has entered into an agreement with AAC Group to master develop 320 acres into a mixed-used development near Hartsfield-Jackson International Airport. The estimated $500+ million project, currently known as "Airport City," will have residential housing, office space, and retail components. Some elements of the project include a pedestrian bridge connecting the Georgia International Convention Center (GICC) to "Airport City". Also, connecting the ATL SkyTrain from HJAIA to the new mixed-use development. The project is expected to bring between 5,000+ jobs to the area, which the ground-breaking is anticipated for November 2018. The entire project is expected to take about 24 months to complete, starting with phase one along Camp Creek Parkway from Herschel Road to the Delta terminal entrance.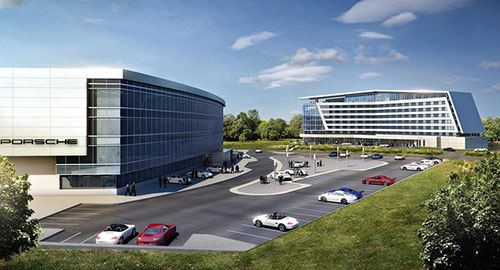 Porsche Cars North America
Porsche Cars North America located its headquarters and Porsche Experience Center at One Porsche Drive, a 26.4-acre site in the "Aerotropolis Atlanta" development. It is home to 400 employees, a Technical Service and Training Center, and industry-first Customer Experience Center with a test track and road course. Immediately adjacent to One Porsche Drive, the Capella Hotel Group is developing the first Solis Hotel in the Atlanta region.
SIGN UP FOR OUR NEWSLETTER
Receive updates and all the latest news from Aerotropolis Atlanta