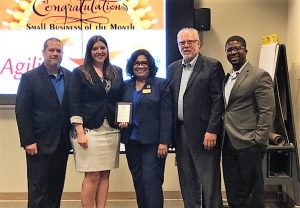 Agility Global Integrated Logistics has been selected as "Small Business of the Month" by the Aerotropolis Atlanta Alliance and South Fulton Chamber of Commerce.
Agility Global Integrated Logistics has been in the Aerotropolis for over 40 years. Although its 80-employee office gives it a relatively small footprint in the region, being in the Aerotropolis gives Agility Global Integrated Logistics a large reach across the globe.
"We chose Agility because they play an important and vital support role for the some of the larger companies headquartered in our area," said Dyan Matthews, President and CEO of the South Fulton Chamber of Commerce. "As a logistics provider, they are one of the companies that keep things moving – literally."
Ashley DeYoung, Agility's Operations Account Manager, in accepting the award for Branch Manager Brooke Fleming, noted that even with a small presence in the Aerotropolis, Agility Global Integrated Logistics "may be small relative to some of the big companies here in Atlanta, we have a global footprint that puts us in the top ten international freight forwarders."
"We have global reach on 6 continents spanning over 100 countries with 500 operational offices – and that number is growing," DeYoung added.
Agility Global Integrated Logistics works with companies of all sizes, from small to medium to some of the Fortune 500 companies headquartered in Atlanta and Georgia.
"I'm proud to have Agility located here in the Aerotropolis, not just because of their global reach, but also because their job function -freight forwarding- is the embodiment of everything that's happening in the Aerotropolis," said Shannon James, Executive Director of the Atlanta Aerotropolis Alliance. "We tell companies that they can 'land here and take off,' and any company moving goods or freight or merchandise through or to Atlanta can be helped by Agility."
"We have, and will continue to be, a company that's active in and supportive of the local economy and workforce," DeYoung said.
Agility Global Integrated Logistics is also now qualified for the Aerotropolis Atlanta Alliance Small Business of the Year Award, to be presented during the Annual State of the Aerotropolis in December 2018.