Aerotropolis Atlanta will be a preeminent location for economic investment by leveraging its unique advantage of proximity to ATL, the world's most travelled airport, expanding targeted industries and furthering strategic development while enhancing quality of life.
What is Aerotropolis Atlanta?
As the world's most travelled airport, Hartsfield-Jackson Atlanta International Airport (ATL) is a primary driver of metro Atlanta's Economy. Aerotropolis Atlanta is an Alliance of Fortune 500 corporations, local businesses, governments, non-profits, and other interested parties located in the general ATL area. The goal is to transform the airport vicinity into a world-class Aerotropolis, stimulate investment, and strengthen public coordination for the benefit of all airport area stakeholders.
ATL Drives the Atlanta Region
moves 250,000 passengers and 2,000 metric tons of freight daily
serves 100 million passengers in a single year
64,000 jobs
contributes $32.5 billion to region's economy
180,000 people are employed within the Alliance area
500,000 square feet of cargo warehousing
200 Domestic and International freight forwarders
Development in the Aerotropolis Atlanta Footprint
Porsche Cars North America
Porsche Cars North America located its headquarters at One Porsche Drive, a 26.4 acre site in the "Aerotropolis Atlanta" development. It is home to 400 employees, a Technical Service and Training Center, and industry-first Customer Experience Center with a test track and road course. Immediately adjacent to One Porsche Drive, the Capella Hotel Group is developing the first Solis Hotel in the Atlanta region.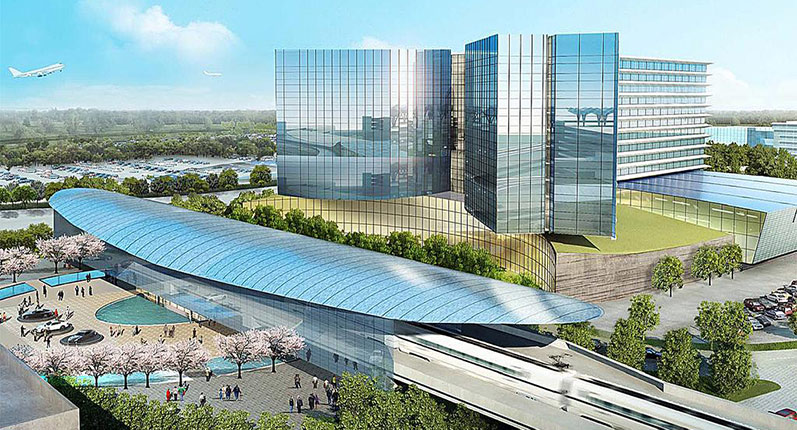 Airport City
Hartsfield-Jackson Atlanta International Airport (ATL) is planning to develop a mixed-use development, including a 4-star InterContinental hotel, class-A office space, and travel plaza adjacent to the airport's main domestic terminal and MARTA station.