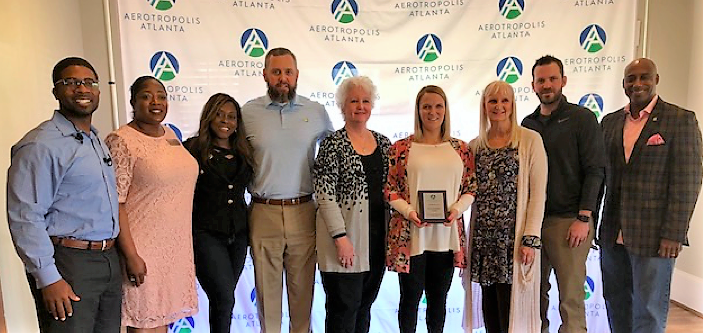 The Aerotropolis Atlanta Alliance, in collaboration with Clayton County Chamber of Commerce, selected Sutherland's Foodservice Inc. as its March 2018 Small Business of the Month for the Aerotropolis Atlanta region.
"Sutherland's Foodservice is honored to have been chosen, and proud to be a member of Clayton County's business community as well as part of the Aerotropolis," said Bonnie Sutherland Wilson, Vice President, CFO, and a third-generation Sutherland to work at the company. "We are thankful for our heritage and what the future holds for our business."
Sutherland's clients include restaurants, educational and healthcare facilities, bakeries, manufacturers and government institutions. Founded in 1947 the company has stayed in the Sutherland family since inception. The company originally operated as Sutherland's Produce Company under original owner Mr. Andrew W. Sutherland. The company would deliver eggs, 10 cases at a time, by removing the back seat of his car. Andrew's wife, Lucy, helped in the office and would candle eggs when necessary. Seventy-one years later, Andrew's dreams, principles, and integrity still shape Sutherland's Foodservice, Inc., one of the best independent food distributors in the country.
"We felt very strongly that Sutherland Foodservice exemplified a small, family-owned business with deep roots in Clayton County and the Aerotropolis region," said Jeremy Stratton, CEO of the Clayton County Chamber of Commerce. "We're proud to have them."
Chairman Jeff Turner and newly elected Mayor Angeline Butler both praised the organization for its commitment to the Forest Park, GA community.
"Sutherland Foodservice has been in the Aerotropolis since before there was an Aerotropolis," said Shannon James, Chairman of the Aerotropolis Alliance. "Their long success shows that well-run businesses can thrive, right here in the region."
The award qualifies Sutherland's Foodservice for the Aerotropolis Atlanta Alliance Small Business of the Year Award, which will be presented during the Annual State of the Aerotropolis breakfast, which draws roughly 500+ attendees in December 2018.