The Ae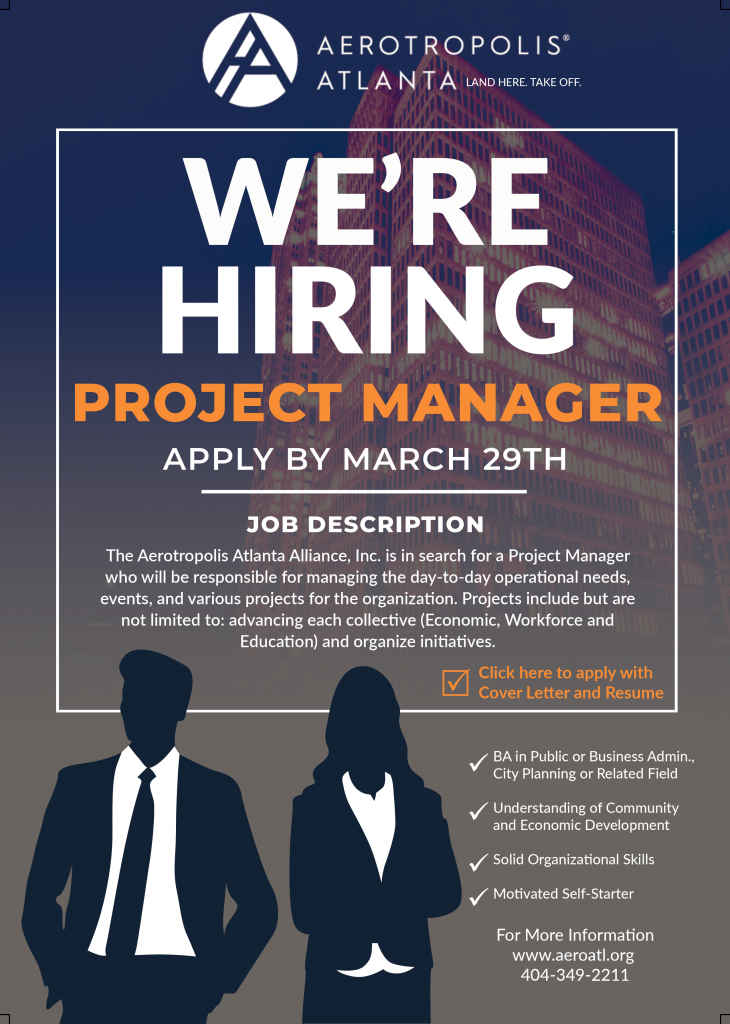 rotropolis Atlanta Alliance, Inc is in search for a Project Manager who will be responsible for managing day-to-day operational needs, events and various projects for the organization. Projects include but not limited to advancing each collective (Economic, Workforce and Education) and organization initiatives.
Duties and Responsibilities: This position will report to the President & CEO and will be responsible for planning, implementation and execution for all initiatives facilitated by or in partnership with Aerotropolis Atlanta.
Support coordinating information for publications, newsletters, and announcements
Assist in day-to-day operational management
Manage relationships and coordinate with local, county, state, regional and international agencies
Monitor and support advancement of all workforce, education and economic development collective projects
Schedule and coordinate meetings with board members, prospects, agencies and key stakeholders
Effectively present the organization mission and objectives at domestic and international meetings/events
Manage the logistics, coordination and communication of all strategic meetings
Other duties as assigned
Qualifications: This position requires a knowledge and background of planning, public policy, public & business administration or related field.
Required Qualifications 
Bachelor's degree preferably in Public or Business Administration, City Planning or related field or related work experience
Motivated self-starter with strong verbal and written communication skills
Understanding of Community and Economic Development
Proficiency in Microsoft Office
Solid organization skills including attention to detail and managing multiple projects concurrently
Preferred Qualifications 
Master's Degree
Geographic Information Systems
This position will work primarily within the Aerotropolis Atlanta Alliance/CID office. Some evening meetings and travel will be required. Position requires the accessibility of a vehicle due to meetings at various locations.
Please send Cover Letters and Resumes to: [email protected]